Your Local Real Estate Expert!
MICHELLE HUDSON
Helping YOU make the right move!

As a lifelong area resident, I know our neighborhoods, attractions, points of pride, and real estate values. As your Realtor I will utilize this knowledge with my maketing expertise and business experience to your advantage! If you are new to the Toledo area I will introduce you to our diverse local communities to help you determine where you want to live and find the best home to meet your needs and budget. If you are considering selling your home, there has never been a better time, ask me why!
I look forward to talking with you! click to email me or call 419-276-9029

Certified Professional
Property Stager
---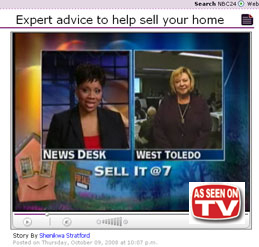 Thinking of SELLING? ... It's a GREAT time!
http://www.abecssbr.com/featured-stories/01/2014/remax-masters-realtor-michelle-hudson-says-listing-home-now-is-good-move/
If you are thinking about putting your home on the market, now is the time!
Interest rates are still low, and there are many active buyers seeking homes and there are not enough listings. These are serious buyers ready to go. Great news for the Toledo market, however, this situation is resulting in a low inventory of homes to choose from and bidding wars.
However, sticking a sign in the yard and putting a few photos on the Internet is not enough.
When you are selling your home you need an experienced marketing professional. With over 15 years experience in business, real estate and marketing, I know when, where, and how to best market your property to help you achieve your goal to sell your home. I will take the time to listen to you and put the right plan for you into action.
Contact me for a FREE analysis and in-home consultation
I will show you what you need to do to sell your home quickly and for top dollar.
click to email me or call 419-276-9029
---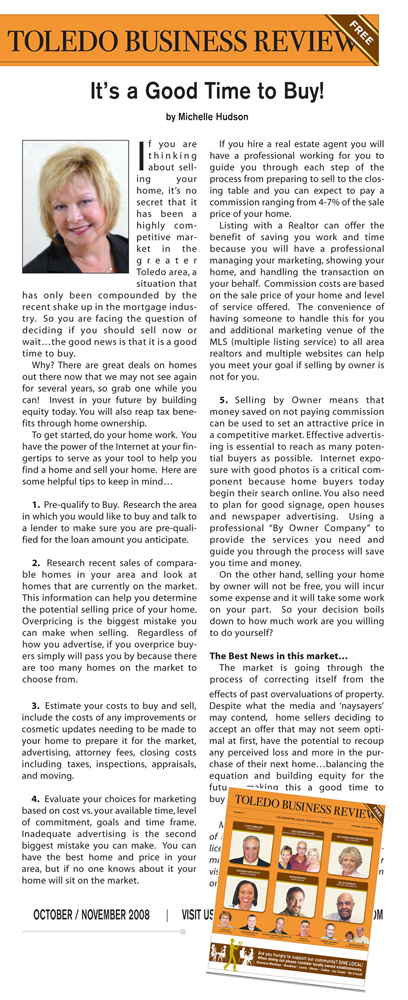 BUYING? How NOT to LOOSE ... your "Dream Home!"
In the active real estate market we are experiencing in the greater Toledo area there are many buyers seeking homes and there are not enough listings. This low inventory of available homes to choose from is resulting in bidding wars. Information abounds on the Internet, but you can't count on this information to be accurate. By the time you find a home you like on sites like zillow and trulia very often it already has an accepted offer and is gone. These sites won't help you find your dream home before someone else does. You need an edge I can give to you as an experienced Realtor with up to date information on what's happening in the market minute to minute.
As a Buyers Agent working for YOU, I will represent your interests and provide you with the resources you need to help you in your home search. Whether you are a first time buyer, expanding your space to fit a growing family, seeking the perfect home to enjoy retirement, relocating to NW Ohio, or purchasing real estate as an investment, my knowledge and experience in working in real estate throughout the greater Toledo area will give you an advantange...and make the process of buying a home an enjoyable experience!
Contact me for a personal home buyers consultation
I will show you how not to miss your dream home... and give you the information you need to make the best purchase decision for your budget and goals.
click to email me or call 419-276-9029
---
MICHELLE HUDSON
KEY Realty
Licensed Realtor in the State of Ohio 2008

Certified Professional Property Stager

Toledo Regional Association of Realtors, Award of Distinction 2015, 2016, 2017; Lifetime Member, President's Sales Club

Bachelors degree in Liberal Arts; Masters Degree in Business; The University of Toledo

15 years experience as a marketing consultant; published award winning website and magazine

Developed and taught workshops for home buyers and sellers

Member of the Toledo Regional Association of Realtors, Ohio Association of Realtors, National Association of Realtors,